Sunday, March 17 @ 9:00am
NEW COURSE JUST ADDED (12/6)!
The redesigned & reimagined Oakland 5K course is here! The 2024 5K route is a one-loop route passing through iconic Oakland landmarks. Check out the interactive map and course details below! The course is subject to change. 
Start to Finish: Whether it's your first 5K, you're racing toward a personal best or just out to enjoy a stroll with friends & family enjoy a beautiful course around Lake Merritt, the Jewell of Oakland! You'll enjoy an energetic start & finish in front of the historic and newly remodeled Henry J. Kaiser Center for the Arts.
The 5K is open to participants of all ages and is the perfect way to be a part of the Oakland Running Festival celebration without miles of pre-race training or post-race recovery! Starting at 9:00am run or walk the 5K around the picturesque Lake Merritt with a start and finish adjacent to Snow Park.
The following items are not permitted on the course:  Dogs or any pets, skateboards, bicycles, roller blades, baby joggers, and any other type of vehicle (other than official vehicles). These regulations are for your safety and the safety of the other participants in the race. The Oakland Running Festival reserves the right to disqualify and remove anyone from the course who has any of the above items.
To enjoy all that our race has to offer and for the safety of all participants, the Oakland Running Festival encourages a headphone-free environment during the running of all of our races. You must be able to hear any verbal instructions or commands from race staff.
Please be mindful of the other participants and respect the race personnel to ensure a safe and enjoyable race for everyone. 
Accessibility: Onsite registration areas, bathroom facilities, and the course are wheelchair accessible. Note that on the course, there are a few curbs to go up/down with a slight uphill finish. When you register online, the registration form will ask if you are a wheelchair participant. We do have a wheelchair division.  The wheelchair division starts a few minutes before the main start of the race.
For questions about accessibility or to request accommodation, please e-mail: [email protected]. Requests should be made at least two weeks prior to the event. We will do our best to accommodate you.
'24 Oakland Marathon Updates
Stay tuned for event drops as well as additional experiences, including the 2024 Medal & Shirt Collection designed by a local artist.
2023 Collection below for reference…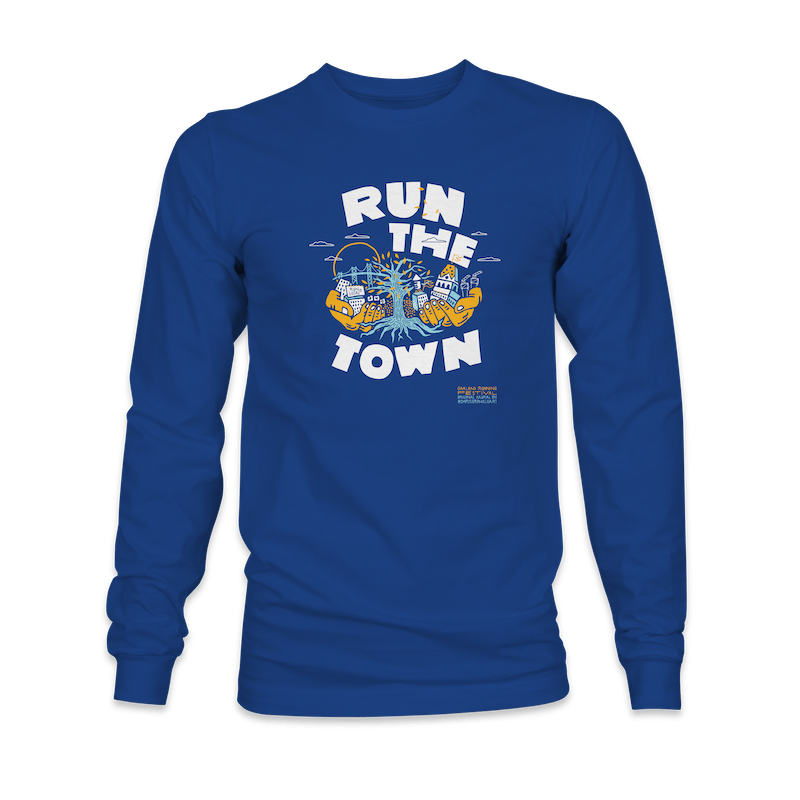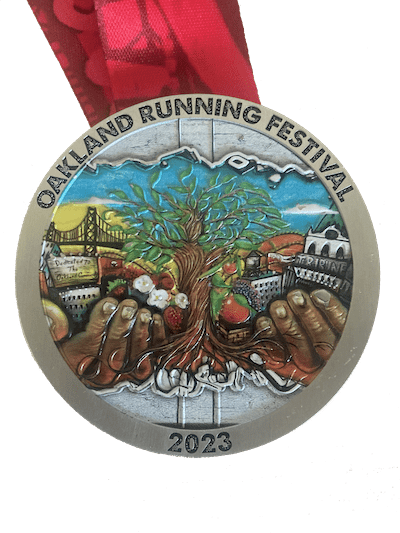 AID STATIONS
On the Course, we will have participant support at the below locations (mile markers listed below are approximate). Portable restrooms will also be available at each aid station.
Start: Water / Electrolytes / Aid Station
Mile 2: Water / Electrolytes
Finish: Water / Electrolytes / Snacks / Aid Station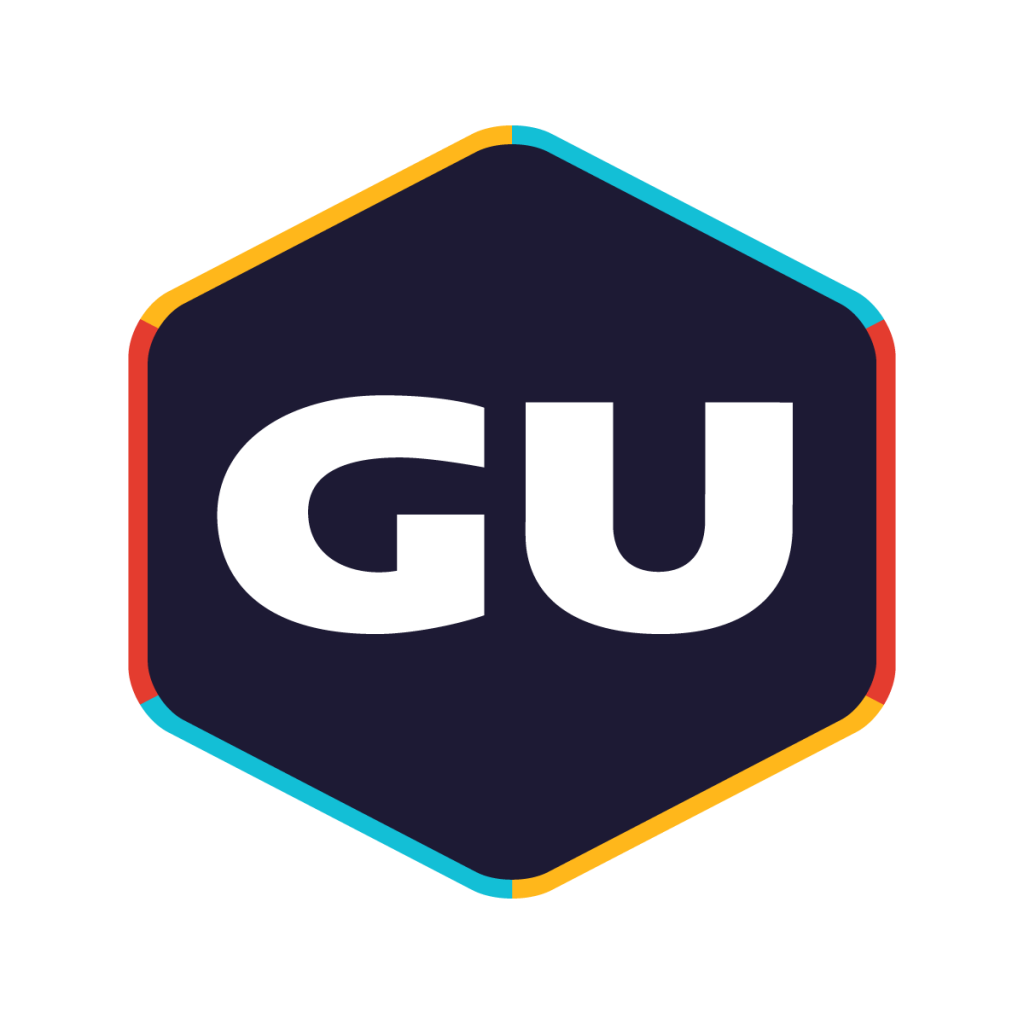 BIB NUMBER REQUIREMENTS
All registered participants will receive bib numbers that must be worn on race day.
Please fill in the necessary medical and emergency contact information on the back of the bib number with a pen or waterproof marker.
Please do not alter the bib in any way.
The bib must be visible and worn on the front outside of all clothing during the entire race.
Make sure your bib number is clearly visible for the race photographers.
Bib numbers are non-transferable and must be worn by the registrant to whom it has been assigned.
CHIP TIMING
B-Tags are attached to the participant's bib and clearly marked with the corresponding bib number. You do not need to return your bib or b-tag chip.
Tips to have your time accurately recorded:
Race bib is clearly visible on the front of the torso
Race bib is unaltered and unmodified (Do not fold or wrinkle)
Race bib is pinned in all four corners
Race bib is not covered (jackets, runner belts, water bottles, etc.)
2023 COURSE MOTIVATION
We'll have the energy going all morning long throughout downtown Oakland. Featured groups include:
Batalá San Francisco – Start & Finish
Batalá San Francisco is a community band that plays samba reggae, an Afro-Brazilian genre of music developed in Bahia, Brazil. Founded in 2012, Batalá San Francisco is the Bay Area contingent of the international drumming organization Batalá Mundo, founded by Giba Concalves in 1997.
Oakland Interfaith Gospel Choir – Mile 1.25
The mission of the Oakland Interfaith Gospel Choir is to inspire joy and unity among all people through Black gospel and spiritual music traditions.
Emeryville Taiko – Mile 3
Since founding Emeryville Taiko on January 1, 1998, Susan Horn has taught and facilitated numerous new local Taiko groups and after school programs, including teaching over 20 years at Cazadero Performing Arts Family Camp.


2023 Volunteers
In addition to the featured entertainment, hundreds of volunteers from the Oakland community will support and cheer you along your journey! Go ahead…give 'em a high five and share the love! Some of the groups on course include:
Cal Hermanas Unidas
East Bay Front Runners & Walkers
Heart in Motion
November Project
Oakland Fukuoka Sister City Association
Oakland Triathlon Club
Squash Drive
AWARDS
Awards are provided in three categories: Men, Women and Non-Binary+.
Overall Winners
Top 3 overall in each category (Men, Women and Non-Binary+) will be honored at the Ronald McDonald House Celebration Village at 11:30am.
Masters
1st place Masters (40+ years old) in each category (Men, Women and Non-Binary+) will also be honored at the Ronald McDonald House Celebration Village at 11:30am.
Age-Groups
Stay tuned for 2024 details.
The age groups are: 18 & Under, 19-29, 30-39, 40-49, 50-59, 60-69, 70-79, 80+